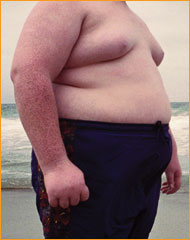 A new study in the Journal of the American Medical Association demonstrates that obese kids are MUCH more likely (16 times!) to become severely obese adults.
So, don't just say "they'll grow out of it."  With the current increase in childhood obesity, we now have kids who have high blood pressure, high cholesterol, and even diabetes.
At the Elsie Whitlow Stokes Charter Public School in DC, nutrition is a cornerstone of their curriculum.  Start  watching the video at ~ 3:50.